Self-financed schools to resume online classes from tomorrow in Gujarat | Vadodara News
AHMEDABAD: After a three-day hiatus, the self-financed schools in Gujarat will resume online education for students from Monday. The development comes even as the stand-off between the schools and Gujarat government continues on the matter of fee collection during the Covid-19 lockdown period.
The Federation of Self-Financed Schools, Gujarat, which claims to have more than 15,000 schools as members, today decided to reverse its earlier decision of putting online learning in abeyance till the government withdraws its July 16 notification. The schools associated with the federation, cover about 27 lakh students and 7.5 lakh teachers.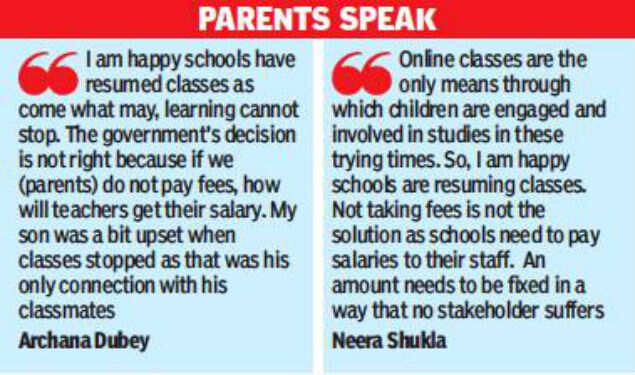 The decision was taken at an online meeting of trustees of various self-financed schools on Saturday evening, said Deepak Rajguru, spokesperson of the Federation. "We took the decision to ensure that there is no further learning loss for students amid Covid-19 crisis," he said.
Many schools started sending mobile messages to parents and students about online classes resuming from Monday.
Mobile phones of parents were abuzz with messages from self-financed schools on Saturday about online classes resuming from Monday. This has ended the uncertainty for many students .
In a notification dated July 16 and made available on Wednesday, the state education department had directed self-financed schools to not collect fees for the lockdown period till the schools re-open physically. The government has also directed schools not to hike fees for the academic year 2020-21. Schools which have already collected fees from parents will have to adjust them when the schools re-open physically.
The decision has not gone down well with many schools and associations with the Federation of Self-Financed Schools, Gujarat challenging the government directive in Gujarat high court.
Opposing the Gujarat government's order the Association of Progressive Schools (AOPS) has decided to launch a #SaveOurSchools campaign on digital platforms. The campaign is aimed to create a voice of concern towards school education , they said a media statement. "We have received tremendous support from parents and other sections of the society," said Manan Choksi, past president of AOPS.
A large number of parents have shown their disagreement towards the government's decision, Choksi said.
"Buoyed by their support, we are launching a digital campaign #SaveOurSchools," he added.